Copyright (c) 2002 the site owner
All rights reserved no part of this site
may be used without expressed written permission from the site owner
,
Pirate Theme Birthday Party for Kids

with Parrot Jack, a pirate entertainer and Parrots also Pirates or Caribbean theme event production service
Parrot Jack goes everywhere. Below are pictures of a pirate themed birthday party for kids. Have a Pirate Party with a Pirate - Parrot Jack is a pirate captain looking for a pirate crew. Have a Caribbean pirate themed birthday party with the pirate captain Parrot Jack, it creates the perfect setting for fun and games and adventure themed entertainment for boys and girls. We have Captain Jack and other pirate entertainers available for your children's birthday party all over the USA. 714-974-0878 Read customer testimonials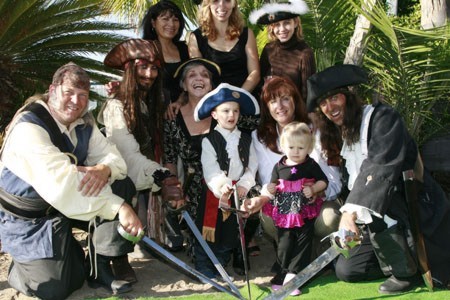 Having a pirate party or event in New York or any other city in the USA? for the best pirate entertainers on the East coast the West Coast and everywhere in between for your pirate party we also serve NY, NJ, PA, CT, MA, MD, DE, VA, D.C. Call for other cities in CO, TX, FL, IL, OH, WI, WA, MA, VA, DC, MD, Call 800-650-2473
Our Basic Pirate Birthday Party Package features a one hour visit from Captain Jack. In limited areas he will arrive with two or more parrot friends. The parrots will entertain and talk to the kids and your guests and they love to be petted and held by children and adults. A basic pirate party with the parrots has the arrival of Jack and the start of the "pirate initiation" of the birthday child, then the treasure hunt*, followed by the pirate tutorial, with the wooden or rubber sword fighting game and then pictures with the children and guests. (*treasure not provided - call for details - parrots not available in all areas) Call anytime for prices in your area. 714-974-0878.

A Deluxe Pirate Birthday Party Package can be one or two hours or more and features two pirates such as Captain Jack and a pirate crew member to have a sword fight show or Jack and a pirate parrot handler to perform tricks with the parrots and lets kids have a parrot encounter. A Deluxe Party Package can also be a Pirate and Princess Party with Captain Jack and a Princess character of your choice. The princess arrives before Jack and is the hostess of a tea party or there is face painting and balloons and stories and games. Captain Jack will then arrive and have the children take the pirate oath and then lead the kids on a treasure hunt. After the treasure hunt Jack then performs the pirate tutorial where all the kids learn sword fighting and then they all go up against Jack with a rubber practice sword (the kids always win). Call for details and the price of the Deluxe Pirate birthday party package, or for pirate themed or non pirate themed events, and the Grand Production Pirate Party anytime 714-974-0878.

A Grand Production Pirate Party (shown below) is where we produce the event for an adults or children's party. We transform the entire event location into a pirate's lair using professional set decoration and Hollywood quality props and custom displays with lighting, sound, special effects and an assortment of professional pirate entertainers such as pirate bands and many pirate specialty acts such as jugglers, fire breathers, fortune tellers, henna artists, belly dancers, exotic animals, a monkey, parrots and parrot shows, a pirate sword fighting show and a whole crew of pirates to meet and greet the guests. Call for details. We have produced every aspect of the design and entertainment for large scale events in Las Vegas, Atlantic City, and Southern California and we can design and produce the ultimate corporate event or public event for you.

The Captain leads the kids on a treasure hunt and masterfully ad-lib's any pirate scenario. A Parrot Jack performance will amuse adults and children with family oriented pirate humor and wit. Call for details and to book your date. 714-745-7321

Captain Parrot Jack is a welcome guest and surrogate host at any type of party or event and is always a hit at any pirate themed party or birthday party for boys and girls from three years old and up. Call 714-745-7321 anytime. Read the letters from birthday party customers See More kids birthday party pictures below. See pictures of a Grand Production kids pirate party here

The birthday party has a treasure hunt and then begins the pirate tutorial and sword training with rubber swords, followed by pictures with all the guests.

All kids love the rubber sword fight game

The treasure Hunt, about to begin

You found the treasure!
Disclaimer: Parrots for Parties in no way implies to claim any rights or any kind of affiliation with Disney and any trademarked or copyrighted characters and including, but not limited to Captain Jack Sparrow, as well as any intellectual property pertaining to the motion picture/s "Pirates of the Caribbean" which are TM and © (or copyright) by Walt Disney, Jerry Bruckheimer and its related entities. This web site and its contents are in no way affiliated with Disney, or authorized or endorsed by Disney Corp, Jerry Bruckheimer Productions, Johnny Depp, or any of their subsidiaries. Parrots for Parties is not affiliated in any way, nor do they by fact or inference imply to hold any rights or authorization, rights of association or sponsorship or endorsement of the use of any copyrights or trademarks as held by any individuals, or companies in association with any offer, including, but not limited to Johnny Depp, Jerry Bruckheimer, Disney and its related entities. The contents of this site are © the site's owners, all rights reserved.